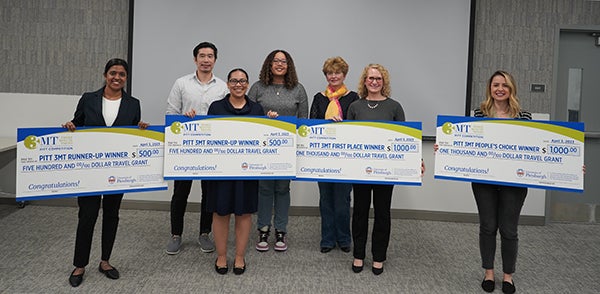 Congratulations to the 2023 Pitt Three Minute Thesis (3MT®) Competition Winners!
First Place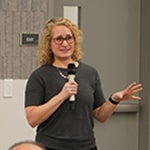 Amanda Mahoney
School of Health and Rehabilitation Sciences
"Determining Readmission Risk Factors in Infants with Bronchopulmonary Dysplasia"
Runners-up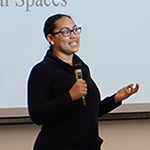 Debralynn Woodberry-Shaw
School of Education
"Gendered Racial Identity of 5th-12th Grade Black Girls in Community-Based Educational Spaces"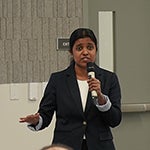 Jincy Vinod
Dietrich School of Arts and Sciences 
"Is the Term 'Metal-free' Deceptive? Finding the Answer Using a Colorimetric Trace Palladium Detection Method"
People's Choice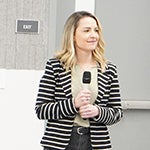 Taiana Campos Leite
School of Dental Medicine 
"Super Mouse — The Multifluorescent Osteosarcoma Mouse"
What is a 3MT competition?
The 3MT competition celebrates the exciting research conducted by Doctor of Philosophy (PhD) and Doctor of Juridical Science (SJD) students. Developed by The University of Queensland (UQ), 3MT cultivates students' academic, presentation, and research communication skills. The competition supports their capacity to effectively explain their research in three minutes, in a language appropriate to a non-specialist audience. 
Who is eligible to enter?
PhD and SJD students who have successfully completed the dissertation proposal defense (candidate status) and are actively in the dissertation stage of training are eligible.
Prizes for the Pitt 3MT Competition
Sponsored by the Office of the Provost, University Library System and Center for Teaching & Learning
| | |
| --- | --- |
| First place prize: | $1,000 travel/research grant |
| Two runner-up prizes: | $500 travel/research grant |
| People's Choice prize: | $1,000 travel/research grant |
Judging Criteria
Judging takes place over two rounds. At every level of the competition each competitor is assessed on the judging criteria listed below. Each criterion is equally weighted and has an emphasis on audience.
Comprehension and Content
Did the presentation provide an understanding of the background and significance to the research question being addressed while explaining terminology and avoiding jargon?
Did the presentation clearly describe the impact and/or results of the research, including conclusions and outcomes?
Did the presentation follow a clear and logical sequence?
Was the thesis topic, research significance, results/impact, and outcomes communicated in language appropriate to a non-specialist audience?
Did the presenter spend adequate time on each element of their presentation—or did they elaborate for too long on one aspect or was the presentation rushed?
Engagement and Communication 
Did the oration make the audience want to know more?
Was the presenter careful not to trivialize or generalize their research?
Did the presenter convey enthusiasm for their research?
Did the presenter capture and maintain their audience's attention?
Did the speaker have sufficient stage presence, eye contact, and vocal range; maintain a steady pace; and have a confident stance?
Did the PowerPoint slide enhance the presentation—was it clear, legible, and concise?
Past Pitt 3MT Competitions
Presentation Resources
To learn more about the competition history, rules, and to gain valuable preparation tips, visit the official 3MT website.
Questions?
Email VPGodley@pitt.edu