The Office of the Provost Presents the 2022 Graduate and Professional Student Appreciation Week Scavenger Hunt.
Day Two - April 6, 2022
Rules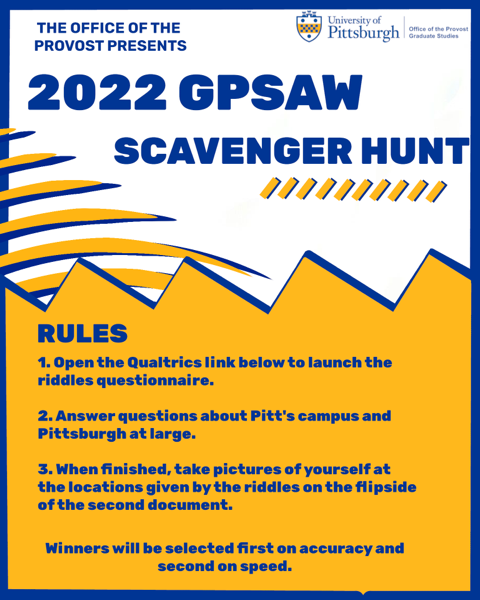 Open the Qualtrics link below to launch the riddles questionnaire. 
Answer questions about Pitt's campus and Pittsburgh at large. 
When finished take pictures of yourself at the locations given by the riddles below.
Winners will be selected first on accuracy and second on speed. 
Qualtrics Questionnaire
Open the Day Two questionnaire.
Location Hints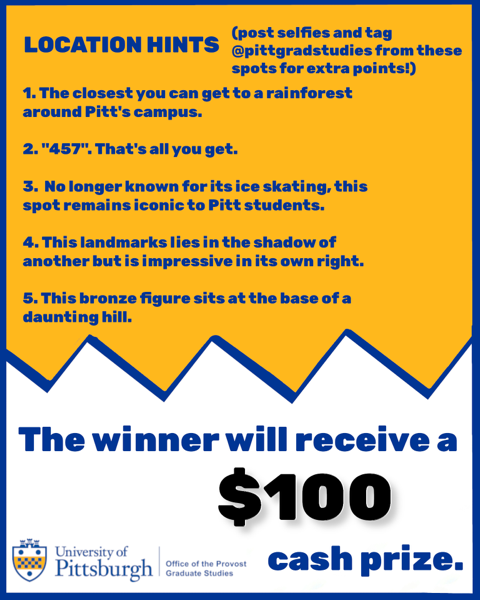 Post selfies and tag @pittgradstudies from these spots for extra points!
The closest you can get to a rainforest around Pitt's campus. 
"457". That's all you get. 
No longer known for its ice skating, this spot remains iconic to Pitt students.
This landmark lies in the shadow of another but is impressive in its own right. 
This bronze figure sits at the base of a daunting hill.
The winner will receive a $100 cash prize.