April 5-10, 2021 — University of Pittsburgh Events
Monday, April 5

   Swag Distribution
   Sponsored by University Counseling Center
   William Pitt Union Plaza - Fifth Ave side
   2-4 p.m. ET 
   Cancelled due to the start of a shelter-in-place period March 31

   Pet Café with Animal Friends, Inc.
   Sponsored by GPSG
   5-6 p.m. ET 
   View and download Pet Cafe flyer
---
Tuesday, April 6

   Myers-Briggs Type Indicator (MBTI) Session
   Sponsored by GPSG
   11:30 a.m.–1:30 p.m. ET
   View and download Myers-Briggs Session flyer
---
Wednesday, April 7

   CANCELLED - Bagels & Coffee
   Sponsored by Office of the Provost – Graduate Studies
   William Pitt Union Plaza - Fifth Ave side
   9:30-11:00 a.m. ET 
   Cancelled due to the start of a shelter-in-place period March 31

   Houseplant 101 with City Grows, LLC
   Sponsored by GPSG
   2-4 p.m. ET 
   View and download Houseplant 101 flyer
---
Thursday, April 8

   CANCELLED - Bagels & Coffee
   Sponsored by Office of the Provost – Graduate Studies
   William Pitt Union Plaza - Fifth Ave side
   9:30-11:00 a.m. ET  
   Cancelled due to the start of a shelter-in-place period March 31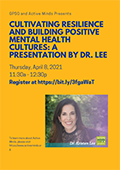 Active Minds Speaker
   Cultivating Resilience and Building Positive Mental Health Cultures: A Presentation by Dr. Kristen Lee
   Sponsored by GPSG
   11:30 a.m.-12:30 p.m. ET 
   View and download Active Minds flyer

   Swag Distribution
   Sponsored by University Counseling Center
   William Pitt Union Plaza - Fifth Ave side
   2-4pm ET 
   Cancelled due to the start of a shelter-in-place period March 31
---
Friday, April 9
   In-House Bartender Virtual Happy Hour
   Sponsored by GPSG
   6-8 p.m. ET 
   Fitness competition grand prize and people's choice winners will be announced during the happy hour.
View and download Happy Hour flyer
---
Saturday, April 10

   MEGA Grad Collab with Duquesne, CMU, Point Park
   Sponsored by GPSG 
   2-4 p.m. ET
The University of Pittsburgh's GPSG joins Point Park University, Duquesne University and Carnegie Mellon University's graduate student associations to bring to you the MEGA Grad Collab! This networking opportunity will allow students to connect with other students across institutions and build community in the city.